Matahui School students compete in AIMS Games
Students from Matahui School, a small private rural school near Katikati, are among those set to compete in the 15th Anchor AIMS Games, an international sporting championship held in Tauranga.
Noah Grove, 12, is a member of the school's six-a-side mixed hockey team. He hasn't played hockey before, and neither has anyone in his family.
"Joining a new school and then learning how to play hockey – I got inspired by it," Noah says.
He met fellow Year 8 student Hugo Bruning at the start of the year and the two boys are now best mates. They're into all the same stuff, like hunting and sports.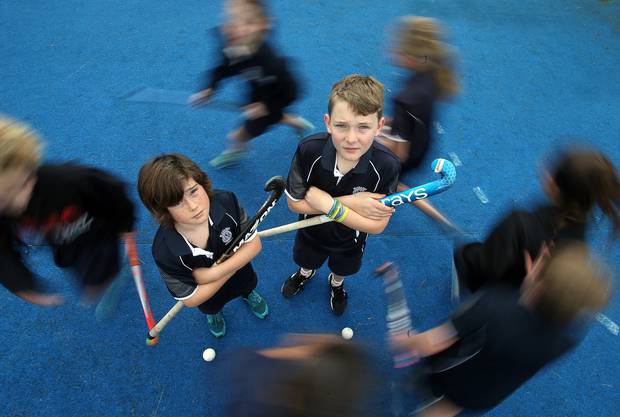 Two best mates from Matahui School, Noah Grove (left) and Hugo Bruning, are both competing in hockey
at the 2018 Anchor Aims Games. Photo / John Borren
"Me and Hugo are practising every day and we have AIMS practice on Wednesdays and we try and convince the rest of the team to come out," Noah says. "We've been practising hard and it gets a bit tiring. But you get used to it.
"We want to do well in the Aims and be the best that we can be. We'll give it 110 per cent."
Hugo, who played hockey for Matahui School at last year's Aims Games, says he and Noah have been practising "like all the time" – in the mornings before school, at morning tea, at lunch.
Last year's Aims Games were "really, really fun".
"We came 16th which was really good. We're really lucky because some schools have got so many people, they've got to pick and choose, but because we're such a small school everyone gets to have a go at it."
Matahui School teacher Paul Evans says the two boys are "really, really enthusiastic".
"I think they're just looking forward to the challenge. Small school but kids with big hearts."
Evans says the competitive nature of the Aims Games is important.
"It's teaching them to get in there and fight for their space and learn how to fight and win and come out on top. It's a good thing for them, a good life lesson."
Story courtesy of Scott Yeoman @ Bay of Plenty Times
Wednesday, August 8, 2018